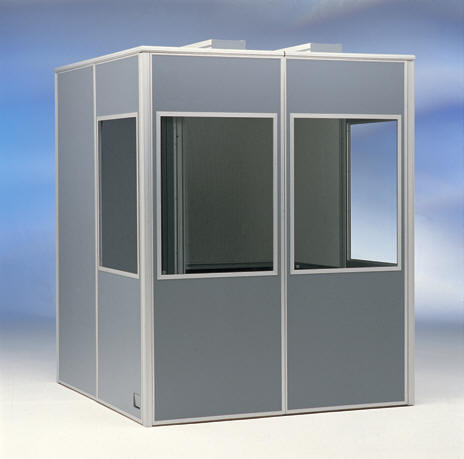 The booths of the "SILENT Series" are constructed with vertical panels. In the standard configuration, 1600 x 1600 x 2000 mm, the Silent 9300 consists of 8 standard panels of 800 x 2000 mm and 2 roof elements. The standard Silent 6000 consists of 8 wall panels, 2 roof elements and 2 floor elements. The Silent Series are easy and swift to mount. One person can do the job by using a hex key. The connection of one element with another is achieved by using special locks.
All elements/panels are interchangeable, thus there is no difficulty to adapt the construction to local conditions. Even the door can be placed in every side.
The roof elements are connected with each other in the same way as the wall elements, resulting in a safe and solid construction.
Unlike the Silent 9300 and 9500, the Silent 6000 series has floor elements. The vertical elements need to be mounted on these floor elements. Horizontal adjustment of the floor elements is possible to obtain a perfectly horizontal floor.
The Silent 6300 as well as the Silent 9300 and 9500 easily be extended to 1600 x 2400 mm by simply adding extra panels.