DC 6990 P digital portable conference unit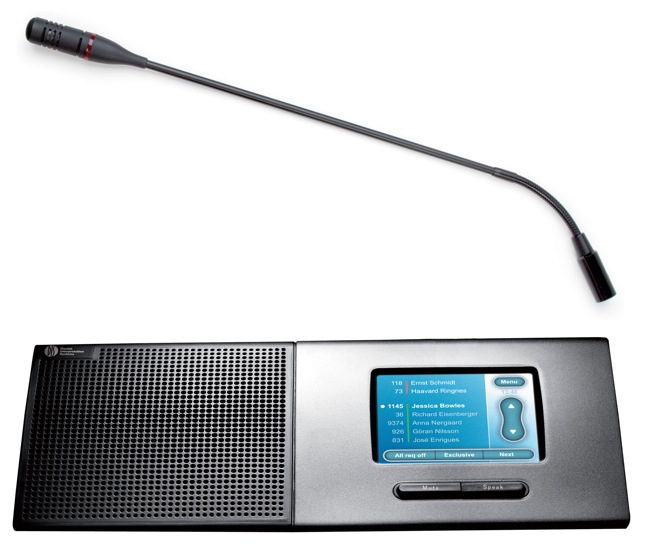 The DC 6990 P is a fully digital portable conference unit perfect for permanent or temporary meetings with speech, voting and/or language interpretation. The unit features a built-in loudspeaker, a 3 pin XLR connector for a pluggable gooseneck microphone (sold separately), two channel selectors, two microphone buttons and a large 3.5 in. (89 mm) high resolution color touchscreen.

The touchscreen can be customized for one (1) or two (2) meeting participants to vote, to select an interpretation channel, to log-in (optionally via chip card) and show speaker list, agenda or voting results. This gives the flexibility for the meeting organizer to tailor the functionality of the unit to each and every meeting.

The unit can either be controlled by the delegates or remotely by the operator/conference chair. The gain/sensitivity of the microphone/loudspeaker can be remotely controlled by the operator.

The microphone button is surrounded with an LED to indicate whether the unit is on (RED) or in the request-to-speak queue (GREEN). The loudspeaker is automatically switched off when the microphone is activated to prevent acoustic feedback.

When the unit is configured as a chairman, the second microphone button transforms to a priority override. The ingenious design of the unit is not only elegant but also provides the option to attach a name plate or logo. The units can be easily daisy chained with shielded FTP or STP Cat-5e cables (sold separately).

Features:

Excellent sound quality.
3.5 in. (89 mm) high resolution configurable touchscreen.
Cost-effective structured
Cat-5e cabling.
Configurable, single, dual delegate or chairman operation.
Yes/No/Abstain and multiple choice voting.