DM 6010 digital conferencing/simultaneous interpretation system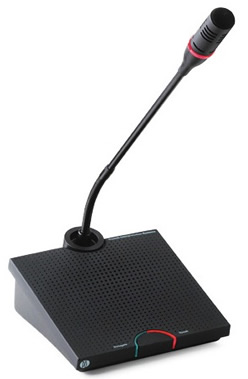 The DM 6010 is a fully digital, portable delegate unit perfectly suited for permanent meeting rooms or temporary discussion-style meetings. The unit features a built-in loudspeaker and a fixed 15.8 in. (40 cm) gooseneck microphone with illuminated red ring to indicate microphone ON status.
Each unit enables participants to speak, register a request-to-speak and listen to other speakers. The unit can either be controlled by the microphone button or remotely by the operator/conference chair.
The gain/sensitivity of the microphone/loudspeaker can be remotely controlled by the operator. The microphone button is surrounded with an LED to indicate whether the unit is on (RED) or in the request-to-speak queue (GREEN). The loudspeaker is automatically switched off to prevent acoustic feedback when the microphone is active. The units can be easily daisy chained with shielded FTP or STP Cat-5e cables (sold separately).
Excellent sound quality.
Cost-effective structured
Cat-5e cabling.
No pick-up of mechanical table noise thru proprietary double rubber band capsule suspension.
Remote microphone gain adjustment.
Elegant, unobtrusive, black units.