Digital Conferencing/Simultaneous Interpretation Systems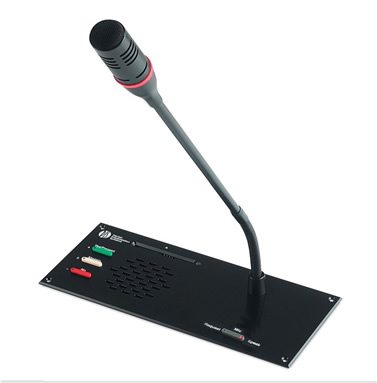 The DM 6510 F Delegate Flush Unit is a cost-effective way to permanently flush mount a loudspeaker, a fixed microphone with microphone button, yes/no/abstain voting buttons and chip card reader. Made of black anodized aluminum, the unit is very unobtrusive. Each unit enables participants to speak, register a request-to-speak, listen to other speakers and cast a vote.

The unit can either be controlled by the microphone button or remotely by the operator/conference chair. The gain/sensitivity of the microphone/loudspeaker can be remotely controlled by the operator. The microphone button contains an LED to indicate whether the unit is on (RED) or in the request-to-speak queue (GREEN).
The loudspeaker is automatically switched off when the microphone is activated to prevent acoustic feedback. Mounting is easy with available screw holes on all corners of the unit. The units can be easily daisy chained with shielded FTP or STP Cat-5e cables (sold separately) and can be customized to fit any application.
Excellent sound quality.
Cost-effective structured
Cat-5e cabling.
Yes/no/abstain and multiple choice voting with color coded buttons.
No pick-up of mechanical table noise thru proprietary double rubber band capsule suspension.
Optional chip card/PIN code identification.