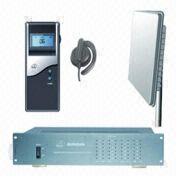 The TC-RF02/04/06/08/10/12/16 digital DSSS simultaneous interpretation systems utilize worldwide license-free 2.4 GHz frequency band and incorporate state-of-the-art Direct Sequence Spread Spectrum (DSSS) technology to deliver CD quality sound, provide excellent immunity from both noise and interference, and insure high security against unauthorized listening.
The system offers distortion-free wireless solution for simultaneous interpretation and language distribution in 2/4/6/8/10/12/16 audio channels, with working range of 50 to 200 meters, ideally suited for use in business and government conferences, international conventions and other multilingual applications.
For more information, please click on one of the links below
Interpreter Console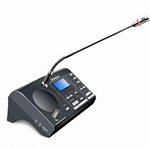 The TC-F16 interpreter console is a digitally-controlled workstation allowing two interpreters to work in turn.
Handles simultaneous interpretation for up to 16 different languages.

Gooseneck microphone and headset microphone can be used

Built-in loudspeaker with volume level control

LCD screen for specific information display

3.5mm jacks on both sides for MIC input and headphone/recording output

3 incoming languages can be preset, with pre-select A/B/C keys.

Automatic channel interlocking prevents interpreters from using same outgoing channel

Relay interpretation allows the interpreters to work from an active channel other than the floor

MUTE key to enable a brief muting of the microphone for cough cut

SLOW key to alert the current speaker to speak slowly

Loudspeaker is automatically switched off when MIC is on or headset is used

The floor signal automatically goes to the output channel after the microphone is turned off

Multiple interpreter consoles can be connected in a daisy-chain

Designed to comply with all related international standards & requirements.
Frequency response: 50-18kHz

Distortion at 1 kHz: < 0.1%

Channel separation: > 85 dB

Signal-to-noise ratio: > 90 dB

Max. input power level: 7.5V

Operating voltage: 24V

Power consumption: 2.5W

8ý/2W built-in loudspeaker
Operating temperature: 0Åé-50Åé
Standard mic stem length: 425 mm
128x64 backlit LCD screen
3/5/10m cable with DB25 connectors
3.5mm jacks for mic, headphone, recorder
ABS base: 247 X 145 X 95mm
Digital Control Unit
The microprocessor based TC-RFZ02/TC-RFZ04 digital control unit is able to transmit 2 or 4 signal channels, featuring independent channel level control, independent channel level indicators, and independent channel outputs for sound recording. Via a DB25 cable, multiple interpreter consoles can be connected to the control unit in a daisy-chain, and multiple control units can be cascaded together to transmit up to 16 audio channels in a system.
RF modulation: DSSS technology
Frequency band: 2400­2500 MHz
Frequency spacing: 5 MHz
Frequency response: 20Hz-20kHz
Distortion at 1 kHz: <0.5%
Channel separation: >70dB
RF output power level: 700mV
RF output impedance: 50 ohms
Input impedance: 18k ohms
Max. input power level: 3.5V
Signal-to-noise ratio: >75dB

Transmit power: 20mW~700mW
Power consumption: 60W
Powe supply: 110/220VAC, 50-60Hz
Operating voltage: 110-240V
Dimensions: 430Å~99Å~325 mm
Expansion port: DB25 connector
RF outputs: 2 or 4 N-connectors
Audio inputs: 2 or 4 RCA unbalanced
Audio outputs: 2 or 4 RCA unbalanced
Interpreter connector: DB25 female
RF Antenna Unit
TC-RFF02S/04S antenna unit is designed to be used for 2 or 4 operating channels, suitable for indoor installation only.
TC-RFF01/02 high-gain directional antenna unit is designed for 1 or 2 operating channels, suitable for both indoor and outdoor applications.
Equipped with channel selection and channel locking function, the antenna unit is powered by the control unit via a coaxial feed cable. It can be positioned centrally in the conference venue or even in the control room, and can be mounted on wall, ceiling or tripod stand.
Signal Type: DSSS
Frequency band: 2400 - 2500 MHz
Frequency spacing: 5 MHz

Gain: 3 or 14 dBi

Impedance: 50 Ohms

Feed cable: SYV 50-3 or 7 coaxial
Connectors: N-type or SMA sockets
Cable length: 5 to 20 metres
Range: 50 to 200 metres
Polarization: vertical or horizontal
Digital RF Receiver
The portable TC-RFJ02/04/06/08/10/12/16 digital RF receiver is designed to be used for up to 2/4/6/8/10/12/16 audio channels, offering crystal-clear reception and CD-quality sound with sampling rate at 44.1kHz. The unit is powered by a more environment-friendly rechargeable Lithium-ion battery. The selected channel number, battery level and RF signal strength are shown on LCD screen. Equipped with individual wireless RF receivers, participants can listen to any selected language channel on a personal earphone, monitor the battery status, check whether or not the unit is receiving the signal properly, and adjust volume level for comfortable listening. Any number of receivers can be used in an installation.
Slide switch for power on/off
Thumbwheel switch for volume control
3.5mm phone output jack
Up/down push buttons for channel selection
Pocket clip and lanyard for easy-wearing
Integrated charging electronics and contacts
Separate battery pack for simple changing
Fully charged battery lasts up to 20 hours
RF modulation: DSSS technology
Frequency range: 2400­2500 MHz
Frequency spacing: 5 MHz
Frequency response: 20Hz-20kHz

Distortion at 1 kHz: < 1.0%
RF output power level: 700mV
RF output impedance: 50 ohms
Input impedance: 18k ohms
Max. input power level: 3.5V
S/N ratio: >55dB
Power consumption: 0.2 W
Battery: 3.7V rechargeable Li-ion
Operating voltage: 3 V
LCD screen: 33 x17mm
Dimension: 33Å~57Å~23 mm
Charging Case GX-20
Microprocessor-based unit w/ smart charging circuit
Accommodates up to 20 receiver units with Li-ion battery
DC 5V low voltage charging power
LED indicator for charging status
About 10 hours needed to fully recharge 20 receivers
Receivers can be left in the case after the charge is complete
AC/DC adaptor w/ power cord
Power input AC100-240V 50/60Hz, output DC5V 8A
Dimensions: 59x30x18 cm (WXDXH)
Receiver Carrycase GX-48
Handy locking aluminium/plastic suitcase
Designed for carrying/storage of receiver units
48 positions with pre-cut foam
Dimensions: 50Å~33Å~20 cm (WxDxH)
Interpreter Headset TC-D2
Closed-ear stereo headset with mic and volume control
Connectors: 3.5mm stereo plugs
Impedance: 60ý±15%
Frequency response: 20Hz to 20KHz
Input power: 30-50mW
Sensitivity (1 kHz): -58±2dB
Microphone type: Omni-directional dynamic
Microphone sensitivity (1 kHz): -58±2dB
Cord length: 2 meters
Delegate Earphone TC-D1
Type: dynamic 40mm
Single-ear clip-on type
3.5mm mini plug
Impedance: 40ý±10%
Sensitivity: 102dB
Frequency response: 7Hz to 24KHz
Input power: 8-50mW
Cord length: 120 cm
Full range enhance system
Super bass frequency technology
DSSS Configuration Diagram