Digital Conferencing/Simultaneous Interpretation Systems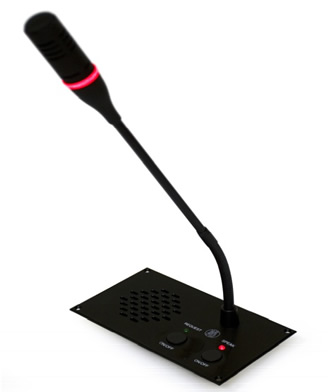 The FD 4010 F Delegate Flush Panel is a cost-effective way to permanently flush mount a loudspeaker, a microphone and microphone button. Made of 2.5 mm black anodized aluminum, the panel is very unobtrusive. Each unit enables participants to speak, register a request-to-speak and listen to other speakers. The unit can either be controlled by the delegate with the microphone button or remotely by the operator/conference chair.
The loudspeaker is automatically switched off when the microphone is activated to prevent acoustic feedback. Mounting is easy with available screw holes on all four corners of the unit. A single 3.3 ft. (1 m) cable is provided to connect to the under-the-table MU 4040 (CDS 4000) or MU 6040 C/D (DCS 6000) control box. The panel can be customized to fit your specific application.
Illuminated red ring - identifies speaker easily
Push-to-talk operation introduces structure
Proprietary microphone design eliminates handling noise
High quality loudspeaker in unit
Elegant, unobtrusive, black units