Digital Conferencing/Simultaneous Interpretation Systems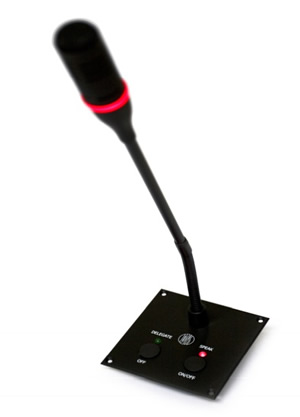 The FD 4011 F Delegate Flush Panel is a cost-effective way to permanently flush mount a microphone and microphone button. Made of 2.5 mm black anodized aluminum, the panel is very unobtrusive. Each unit enables participants to speak and register a request-to-speak.
The unit can either be controlled by the delegate with the microphone button or remotely by the operator/conference chair. Mounting is easy with available screw holes on all four corners of the unit. A single 3.3 ft. (1 m) cable is provided to connect to the under-the-table MU 4040 (CDS 4000) or MU 6040 C/D (DCS 6000) control box. The panel can be customized to fit your specific application.
Illuminated Red ring for easy speaker identification, Clearly visible even in broadcast lighting
Push-to-talk operation introduces structure to the meeting
Remote control via easy-to-use PC application
Proprietary double rubber band capsule suspension microphone eliminates handling noise