FD 6012 F dual delegate flush panel conference microphone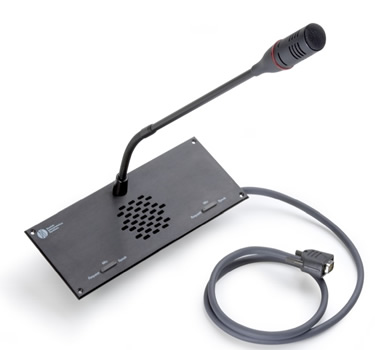 The FD 6012 F dual delegate flush panel is a unique, dual user, flush mount conference unit. Made of black anodized aluminum, the panel is very unobtrusive. Each delegate has their own microphone and request-to-speak button, but share the microphone and loudspeaker.
Mounting is easy with available screw holes on all corners of the unit. A single 3.3 ft. (1 m) cable is provided to connect to the under-the-table MU 6042 D microphone unit. The panel can be customized to fit your specific application.
Illuminated red ring - identifies speaker easily.
Dual delegate.
Proprietary microphone design eliminates handling noise.
Push-to-talk operation introduces structure.
Remote microphone gain adjustment.
Elegant, unobtrusive, black units.