Digital Conferencing/Simultaneous Interpretation Systems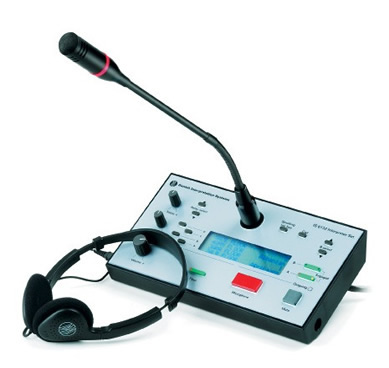 The IS 6132 P 32-Channel Interpreter Set is a fully digital, portable, single-user interpreter desk, fully compliant to international standards. The set features two (2) outgoing A/B channels and four (4) input relay buttons. Clear positioning of all controls allows intuitive operation without mistakes.
The unique digital technology eliminates background noise, distortion and crosstalk. Automatic gain control ensures equal listening level on all channels irrespective of the individual interpreter's speech level. The operator can change the language setting or active/de-activate a microphone remotely.
The desk can be used with a gooseneck microphone and headphone or a headset. The unit can be easily daisy chained with shielded FTP or STP Cat-5e cables (sold separately).
4 pre-selection channels for listening to the floor or interpretation channels.
Remote interpreter desk settings and microphone control capabilities with PC/AMX/Crestron.
Cost-effective structured
Cat-5e cabling.
Use either with pluggable microphone or headset.
Switchable A/B outgoing channels.