LS-70 Conference Discussion System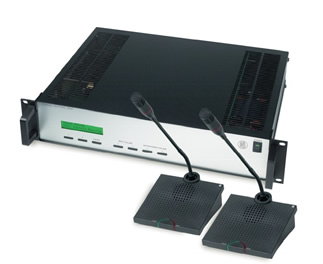 The LS-70 is a portable conference system for nine (9) delegates and one (1) chairman is ideal for city councils, school boards or boardrooms. The LS-70 system operates in push-to-talk mode and is fully functional without any additional parts. Its simple design allows it to be set up in a matter of minutes and does not require an operator.
Features:
Illuminated red ring for easy speaker identification, clearly visible even in broadcast lighting.
Push-to-talk operation introduces structure to the meeting.
"Daisy Chain" loop-through cabling.
Different operating modes with request-to-speak queuing.
Chairman unit with priority override.