LS-75 Portable Conferencing/Simultaneous Interpretation System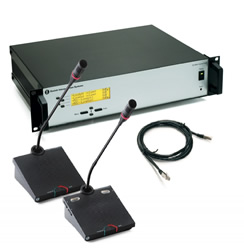 The LS-75 is a portable conference system for 29 delegates and one (1) chairman. This system provides excellent sound quality and can operate either in automatic mixing (voice activation) mode or with delegate control. It is ideal for corporate training centers, rental companies and break-out or committee rooms that require voice activation. The LS-75 system is fully functional without any additional parts, can be set up in a matter of minutes and does not require an operator.
Features
Excellent sound quality.
Cost-effective structured
Cat-5e cabling.
Automatic Mixing Mode with configurable threshold and release time.
Remote microphone sensitivity control.
Elegant, unobtrusive, black units.