PPA T36 Body Pack Transmitter
72-76 MHz, 16 Selectable Channels, Mute Switch, Compression, Auxiliary Input, Frequency Lock, Cable Included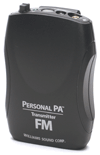 The Personal PA(TM) T36 transmitter will broadcast a speaker's voice or audio program on one of sixteen available channels, 72-76 MHz, to listeners using a R33, R35, R35-8, R36 or R1600 receiver.
The unit features flexible mic and auxiliary inputs, push-button on/off/mute controls, channel lock and selectable compression. Lightweight and portable, the PPA T36 will operate up to 150 feet (46 m) from the listening audience.
It is ideal for providing hearing assistance for students in the classroom, tour group participants, employee training, business meetings and more.
Sixteen-channel Selectable, 72-76 MHz
Digitally Synthesized Frequencies
Portable, Lightweight, Stylish Design
Accepts Electret Mic with 3.5mm Mono Plug or Audio Source (MP3, CD player) with 2.5mm Plug
Range of Up to 150' (45.7 m)
Push-button On/Off/Mute Control
Flashing Mute and Low Battery Indicator
Operates in Normal or Compress (2:1) Mode
Individual Mic and Auxiliary Volume Controls
Channel Lock Switch
Belt Clip for Hands-free Operation
Five Year Warranty (90 days on accessories)

** NOTE: The Personal PA system is approved by the FCC for operation in U.S. markets. The Personal PA can not be used in all countries. Check with your government?s radio regulations for 72 - 76 MHz operation. **