T863 FM 3-Channel Selectable Transmitter with Belt Clip, 2AA batteries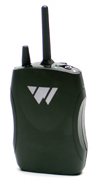 The T863 is a portable, body-pack style FM transmitter with user-selectable operating frequencies of 863.25 MHz, 863.75 MHz, or 864.75 MHz. The T863 will operate up to 30 meters (98 feet) when used with Williams Sound´s R863 receiver.
The transmitter is showcased in a black, ergonomic, impact-resistant case, and is belt clip equipped for hands-free operation. Controls include an integrated on/off/channel switch, 3.5mm mic jack, and battery ON indicator LED. Drop-in charging points allow up to 12 transmitters to be charged at once in the optional CHG 3512 multi-charger.
The T863 operates on two AA batteries for up to 20 hours, or 15 hours per charge when used with Williams Sound rechargeable batteries. The T863 will accommodate a variety of microphone options.
NOTE: The operating frequency on the T863 transmitter is optimized for European markets. The transmitter can not be used in all countries. Check with your government´s radio regulations for 863 MHz operation.