Infrared simultaneous interpretation receivers for rent
The portable TC-J906 infrared receiver is designed to receive 6 audio channels.
The optical lens offers a wider receiving angle to pick up the infrared light signal. The delegate may listen to any selected language on a headphone/earphone. Volume level can be adjusted through the volume control for comfortable listening. Any number of receivers can be used in an installation.
Modulation mode: FM
Frequency synthesis: digital PLL
Frequency band: 2.0 - 6.0MHz
Frequency response: 100-14kHz
De-emphasis: 75 É Sec.
Peak deviation: ±7.5kHz
Distortion at 1 kHz: <1%
S/N ratio: >55dB

Frequency stability: 10ppm
Operating voltage: 2.3V-3.6V
Power consumption: 50mW
Slide switch for channel selection
Switch for power on/off & volume control
3.5mm earphone output jack
Battery type: 2 x AAA alkaline or rechargeable
Pocket clip and lanyard for easy-wearing
Dimensions: 140Å~58Å~30 mm (LxWxD)
Use it with:
TC-906 Infrared system: Simultaneous Interpretation in 6 Channels for 5+1 Languages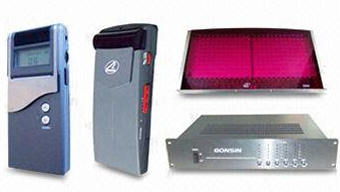 •Key Specifications/Special Features:
* Ideal for use in business and government conferences, international conventions and other multilingual applications
* Offering simultaneous interpretation and wireless audio distribution for up to five different languages and the floor language
* Using state-of-the-art infrared transmission technology
* Complies with the IEC industry standards
* Operating in the higher frequency band 2 to 6MHz to avoid lighting interference