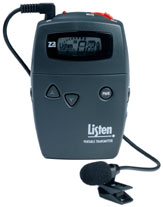 Excellent for factory tours, outdoor events, wireless microphone applications, classroom or training, or personal use - anywhere you need to amplify sound but don't have (or want) an installed sound system!
This portable transmitter offers a unique Look & ListenTM Display; at-a-glance verification of channel selection and battery level. In addition, a red LED on top of the unit communicates ON/OFF status, low battery, and mute status. Portable transmission has never been easier for users!
Built-in SmartChargeTM - Charging circuits are conveniently built into Listen's portable transmitters, saving money and hassle by eliminating the cost of external battery chargers and extending rechargeable battery life. Simply plug in a wall transformer; batteries automatically recharge and won't overcharge. This also eliminates the hassle of removing the batteries or a charger at a specified time.