Power supplies, transformers & adapters
LBB 4106/00D- DCN Extension Power Supply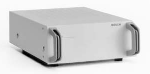 Use this power supply with a CCU to supply power to a maximum of 180 additional units (when they are rated with a Power Consumption Factor (PCF) of 1).
A built-in trunk splitters enables installation at any convenient point in system cabling.
Connect it using loop-through cabling.
It turns on when the CCU is turned on and outputs are protected again short circuits.
Free standing or rack mount options available.
Includes 6 ft cable with 6-pole circular connector.
Indicators show trunk overload. Dimensions: 3.93 x 8.66 x 13.70 in
TFP 008
110VAC/12VAC Power Supply for Pocketalker Pro, T17, IC-1, TEL 040, CHG 1269
TFP 008 HV
230VAC/12VAC Power Supply for T17, IC-1, TEL 040, CHG 1269
TFP 010

US Power Supply for WIR TX9, CHG 1600
TFP 016

110VAC/24VAC Power Supply for T35, MOD 111, MOD 112, MOD 232
TFP 024

110VAC/12VDC Power Supply for WIR TX295, UL/CSA
TFP 029

110VAC/6VDC Power Supply for CHG 200, WIR TX295
TFP 030
230VAC/6VDC Power Supply for CHG 200
TFP 032
230VAC/12VDC Power Supply for WIR TX295, CHG 950, Euro
LA-201

Power Transformer for Listen Technologies stationary units
LA-202

Power/Charging Supplies for Listen Technologies portable units
LA-305

Automobile Power/Charging Adapter for Portable Units
Connectors, plugs, splitters & adapters

Model

Description

LA-121

BNC Adapter
Only needed for the LT-800-072

TEL-001

Telelink telephone adapter
Use with Pocketalker Personal Amplifier and standard phone line to amplify phone calls to a comfortable listening level
3.5mm plug

CNA-007

1/4" TRS phone plug to RCA jack

LBB 4118/00

DCN Termination Plug for DCN Cable

LBB 4117/00

DCN Cable Locking Clamps, package of 25

LBB 4115/00

DCN tap-off unit

Use this unit to create short-circuit proof tap-off points on the trunk-line cabling.
Each tap-off point allows for up to 4 channel selector connections or up to 2 table-top contribution units, such as delegate, chairman, or interpreter desks.
The unit has 2 tap-off points and comes with cable restraining clamps, mounting holes and 6ft cable. It has 6-pole circular connectors for loop-through connections and tap-off connections. Dimensions: 1.37 x 1.91 . 5.57 in

LBB 4114/00

DCN trunk cable splitter

Use this cable splitter with the system cabling to divide the trunk-line cabling. This will allow installers to achieve optimum layout of the trunk-line, and therefore equipment to suit the venue.
The trunk-cable splitter comes with 6ft cable, cable restraining clamps, and holes for mounting.
Includes 6-pole circular connector for loop-through connections and two more for cable splitting and pulse regenerations.
Dimensions: 1.37 x 1.91 x 5.51 in

LA-89

RG-58 (50 ohm) coaxial cable terminated at both ends with BNC connectors.
Use to interconnect multiple LT-82 units to achieve multiple IR carriers. Length (15 inches).

LA-281

Set of molded 6-pole circular connectors (male and female).
Termination connectors for use with the LBB 4116/00 to customize the length of the cable.