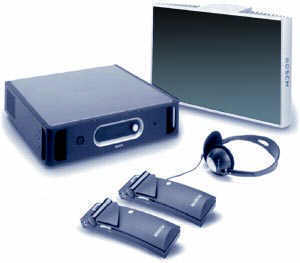 The Integrus is the world's first fully digital infrared language distribution system. It manages to achieve what has long been the wish of many congress specialists: high-quality, wireless audio distribution which is completely immune to distortion from hall lighting. It is also easy to install and interface with other systems. Integrus is ideal for congress centers, universities, international organizations, or wherever simultaneous interpretations take place.
No interference from lighting
Superior digital audio quality
User-friendly selection of 32 channels
Easy interfacing with DCN and other congress systems
Can be used in bright sunlight
Integrus fully complies with the new IEC 61603-PART7, the industry standard for digital infrared transmission in the 2 to 6 MHz frequency band.
Integrus Digital Infrared System
Integrus Architect & Engineer Specifications (PDF)
Integrus Data Brochure (PDF)

Bosch CCS 800 Discussion System

This is an economic, high-quality electronic microphone system. The interface is user-friendly, the plug and play design is simple to install and extremely versatile.

The system can be configured to allow up to 150 microphones (50 microphones per central control unit at a maximum of 3 CCU's per system) and the double headphone socket and flexible microphone stem allows two people to use the same delegate unit. Settings for microphone prioritization and number of open microphones allows for automatic management of the proceedings.
The CCS 800 is best suited for small-to-medium sized meetings and conferences such as local government councils, hotel conference rooms, training and educational venues and company board rooms.

CCS800 Discussion System
CCS 800 Data Brochure
CCS 800 Commercial Brochure
CCS 800 Extension CCS 800 Congress System

CCS 800 Digital Feedback Suppression

BOSCH DCN Concentus System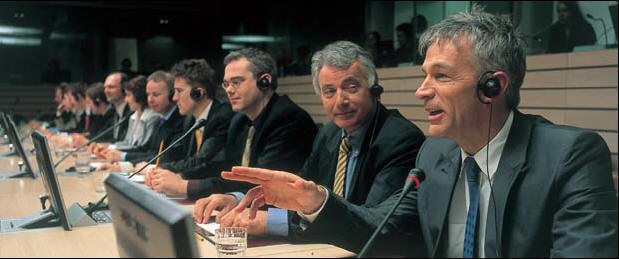 The BOSCH DCN Concentus System provides integrated digital conference management for small discussion groups to international, multi-lingual conferences with thousands of delegates.
The system is compatible with all DCN products including the Integrus infraed language distribution system and is available in both table-top and flush-mounted designs.
Extnded features include: simultaneous interpretation of up to 32 languages, multilingual text messaging, PC monitoring/control, voting, camera control, intercom system, attendance registration, delegate databasing, wireless remote.
DCN Concentus System DCN Discussion Brochure
DCN Data Brochure
DCN Architect & Engineer Specifications
DCN Conference Systems Brochure
DCN Next Generation Interpretation Systems