Simultaneous interpreter consoles
TC-F06/16 Interpretation Console with Automatic Channel Interlocking Function and Built-in Loudspeaker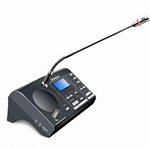 The TC-F06 interpreter console is a digitally-controlled workstation allowing two interpreters to work in turn.
#Handles simultaneous interpretation for up to 6 different languages.
#Gooseneck microphone and headset microphone can be used
#Built-in loudspeaker with volume level control
#LCD screen for specific information display
#3.5mm jacks on both sides for MIC input and headphone/recording output
#3 incoming languages can be preset, with pre-select A/B/C keys.
#Automatic channel interlocking prevents interpreters from using same outgoing channel
#Relay interpretation allows the interpreters to work from an active channel other than the floor
#MUTE key to enable a brief muting of the microphone for cough cut
#SLOW key to alert the current speaker to speak slowly
#Loudspeaker is automatically switched off when MIC is on or headset is used
#The floor signal goes to each output channel after the microphone is switched off
#Multiple interpreter consoles can be connected in a daisy-chain
#Designed to comply with all related international standards & requirements.
#Frequency response: 50-18kHz
#Distortion at 1 kHz: < 0.1%
#Channel separation: > 85 dB
#Signal-to-noise ratio: > 90 dB
#Max. input power level: 7.5V
#Operating voltage: 24V
#Power consumption: 2.5W
# 8Ω/2W built-in loudspeaker
# Operating temperature: 0?-50?
# Standard mic stem length: 425 mm
# 128x64 backlit LCD screen
# 3/5/10m cable with DB25 connectors
# 3.5mm jacks for mic, headphone, recorder
# ABS base: 247 X 145 X 95mm
Williams Sound IC-1: 4-Channel Interpreter Control Center

Use as a stand-alone unit for dual language applications and up to 2 target languages. Use in tandem and combine multiple IC-1s to handle up to four languages economically. The IC-1 features a microphone mute, floor relay, key and normal controls, dual microphone and headphone connections, and dual volume controls.
Bosch LBB 3222/04:
6-Channel Interpreter Desk with Loudspeaker

Built-in loudspeaker
Six different language channels
Channel protection facility
Desktop or flush mounting
Bosch LBB 3520/10 Interpreter Desk with LCD Screen: 15-Channel Interpreter Desk

Accommodates up to 15 languages including the floor language
Pre-select keys for language selection
'Quality indication' of incoming languages
Backlit LCD screen for clearer information display
Improved ergonomic design to simplify operation
Bosch DCN-IDESK 32-channel, single user Bosch DCN interpreter desk

The DCN-IDESK is a single-user interpreter desk with a stylish and modern design, which fully conforms to internationally agreed standards. Clear positioning per functional area of the desk controls allows intuitive operation without mistakes.
TC-F906 Digital Interpreter Console

The TC-F906 interpreter console is a digitally-controlled workstation for two interpreters to work in turn.

Interpreters may quickly switch between the floor language and the channel set. An automatic channel interlocking function prevents them from using the same output channel. The auto relay function enables them to work from an active channel other than the floor, and to provide relay interpretation in
case they are unfamiliar with the floor language and unable to interpret it.

Pressing the COUGH CUT button enables a brief muting of the microphone. Automatic acoustic feedback prevention is ensured when the interpreters listen to their own interpretation.
Control panel for two interpreters
Single-cable daisy chain interconnection
Automatic channel interlocking
Automatic relay interpretation
Monitor switch for active channel selection
A, B outgoing channel selection
Channel selectors with LED indicators
Microphone on/off and volume control
COUGH CUT for muting microphone
Automatic acoustic feedback prevention
3.5mm jacks for MIC, headphone & recorder
Frequency response: 100Hz-15kHz
Distortion at 1 kHz: <1%
Channel separation: >70Db
S/N ratio: >70 dB
Max. input power level: 7.5V
Input impedance: 2k ohms
Operating voltage: 24V
Power consumption: 19W
Dimension: 330 × 200 × 40 mm (W×D×H)
Weight: 2.7 kg
TOP VIEW
1
VOLUME
Rotary switch for headphone volume level control
2
MONITOR
Rotary switch for selection of an active channel for relay interpretation
3
ORIGINAL
Pushbutton for the floor (original) language channel (CH0).
Push the button to access the floor signal.
4
RELAY
Pushbutton for the relay interpretation which allows the interpreters to work from an active channel other than the floor.
5
MICROPHONE OUTPUT CHANNEL
SELECTORS
Push a button to select an audio output channel. When a channel is occupied, the LED indicator above the button will light up.
6
MIC ON/OFF
Push the button to activate the microphone. Press again to switch off the microphone.
7
COUGH CUT
The indicator will light up when the button is pressed to enable a brief muting of the microphone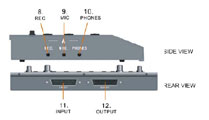 SIDE VIEW
8
REC
Output jack (3.5mm) to connect an audio recorder.
9
MIC
Microphone input jack (3.5mm).
10
PHONES
Headphone output jack (3.5mm).
REAR VIEW
11
INPUT
Male DB25 port to connect the transmitter or the last interpreter console's OUTPUT port.
12
OUTPUT
Female DB25 port to connect next interpreter console's INPUT port.