The LR-300 Digital Receiver is a low-cost digital receiver. It has the same exceptional audio quality as Listen's full-featured receivers and the same convenient recharging options, but it doesn't have the LCD display and has 17 wide band channels to select from, versus 57 wide and narrow band channels on the other receivers.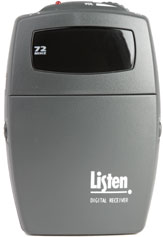 SmartChargeTM - Charging circuits are conveniently built into Listen's receivers, saving money and hassle by eliminating the cost of external battery chargers and extending rechargeable battery life. Simply plug in a wall transformer; batteries automatically recharge within the unit and won't overcharge. This also eliminates the need to remove the batteries or a charger at a specified time.

Seek! Since Listen receivers offer 17 channels, this exclusive "seek" capability allows a user to walk into a facility and press the receivers SEEK button to automatically find a transmitting channel; perfect for personal use!

The LR-300 carries a 90-Day Performance Guarantee and the Listen Limited Lifetime Warranty.