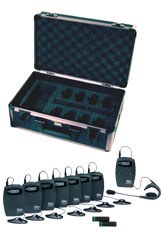 The LS-06 7-Person Tour Guide / Language Interpretation System is a great starting point for small facilities, government or other meetings, houses of worship or other venues that wish to provide language interpretation.
Also perfect for tours of factories, museums, schools or zoos. The 7-Person System includes a Portable Transmitter and microphone, display receivers with ear speakers, batteries and a carrying case.
Also be sure to consider whether a hand held or noise canceling microphone might be appropriate for your application. And remember that you can add any number of receivers to a single transmitter if you need to accommodate more guests!