Multi-Caisses manufactures a variety of simultaneous interpretation booths, including walk-in booths for 1, 2, or 3 interpreters, as well as a portable1-person tabletop booth. Multi-Caisses interpretation booths have served at some of the most prestigious meetings and conferences throughout the world.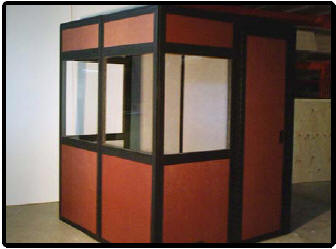 Designed to create the best acoustic environment for the distinction of various languages spoken simultaneously, Whisper Cube provides the perfect visual and two-way audio communication between the interpreters and the participants in various meetings conferences.
The unique concept of our mobile simultaneous translation booth yields many advantages: low operation costs, no special tools required for assembly, flexibility and expandability. Extra panels can also be added to increase the size of the original booth. High quality materials are used for both the inside and the outside finishing aspects, which satisfies both the translator and the audience. They necessitate very little maintenance; they are easy to repair, have no moving pieces and are easy to move.
Shipping and storage are hassle free with our special carrying cases, which are designed to be handled by hand, or with a forklift. They can also be shipped by air for international events. Our new Protocole international class booth meets and surpasses ISO-2603 and ISO-4043.
A low doorstep allows safe access to the booth and each Whisper Cube comes equipped with two cable ports and two ventilation units to assure that translators/interpreter benefit by a comfortable working environment. We can also offer customized booths, built to meet specials dimensions or configurations. All materials used are lowmaintenance and preserve their original appearance throughout the years.
All Multi-Caisses simultaneous interpretation booths include:
Two (2) ATA-300 shipping cases on wheels are included at no additional cost
Two (2) H.D. 55 CFM silent whisper 110 volts fan assembly unit CSA approved with (2) electric outlet for accessories
Each panel is built with an exterior covering of expanded vinyl with a special sound barrier of acoustic foam and MIL-B131-H laminating aluminium foil. The interior covering is acoustic polyester cotton 9mm woven density, framing is high density PVC extrusion with industrial-grade Velcro. No tools needed for assembly.
Options:
Air Conditioning
Double Plexiglass
Soundproof Flooring
Lighting System
Table System
Interior Division Partition System
Custom Built
Project Management
For more information:
Multi-Caisses Simultaneous Interpretation Booths
Multi-Caisses Protocole Simultaneous Interpretation Booths
Multi-Caisses Diplomate Simultaneous Interpretation Booths
Multi-Caisses Porta-Pack Tabletop Interpretation Booths
Multi-Caisses Booths Descriptions (PDF)