Listen's LR-500 Programmable Receiver offers a unique Look & ListenTM Display - Easily verify channel selection, whether or not channel is locked, battery level, and RF signal strength using the LR-500's LCD. Also, use the LCD to verify programming status. Ease-of-use has never been better for users, or ease of programming for installers!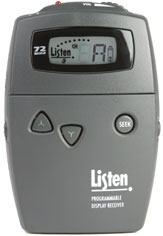 Programmability - Unneeded channels can be locked so this receiver will access only one or more channels of your choice. Channels can be re-programmed at any time to meet new application needs.

SmartChargeTM - Charging circuits are conveniently built into Listen's receivers, saving money and hassle by eliminating the cost of external battery chargers and extending rechargeable battery life. Simply plug in a wall transformer; batteries automatically recharge within the unit and won't overcharge. This also eliminates the need to remove the batteries or a charger at a specified time.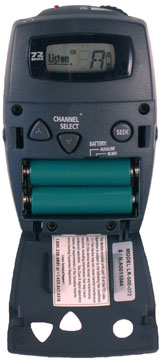 Seek!Since Listen receivers offer 57 channels, this exclusive "seek" capability allows a user to walk into a facility and press the receiver's SEEK button to automatically find a transmitting channel; perfect for personal use!

Multi-Channel Selectability means Compatibility and Versatility! Each Listen receiver offers 57 wide and narrow band channels at 216MHz. Channels even match commonly used channel numbers and letters. Thus, this receiver is compatible with similar type FM transmitters. This means limitless application possibilities and assurance in finding a clear transmission channel.

Rock-Solid Performance! Listen receivers are digitally-tuned so reception won't drift - assurance that when you select a channel, it stays there, for consistent, high-quality audio.

The LR-500 carries a 90-Day Performance Guarantee and the Listen Limited Lifetime Warranty.