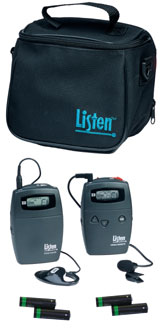 Designed for an individual user, the LS-05 Personal Listen System is great for a personal system to take to school, a house of worship, training facility, etc.
This system includes a portable transmitter with microphone, an LR-400 Display Receiver with Ear Speaker, carrying case and batteries. For details, click on the product name below.
Or you can substitute any accessories to meet your needs better, such as using a hand held microphone or upgrading to rechargeable batteries.