We provide simultaneous interpretation services into most languages for conventions of all sizes. Our interpreters are experts in several fields of specialization, including technical training, continuing legal education, and continuing medical education.
In addition to the services of some of the best simultaneous interpreters in the world, our interpretation package includes all necessary simultaneous interpretation and sound equipment, as well as trained and experienced technicians to install, maintain, and distribute the equipment.
Since the quality of a simultaneous interpretation depends largely on the quality of the working conditions and equipment provided to the interpreters, we only provide simultaneous interpreters when we also provide the equipment.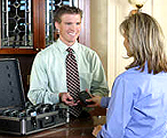 The booth's sound insulation, dimensions, and air quality, as well as the sound quality of the headphones, microphones, and other equipment, are integral components of the simultaneous interpreting process.
For information on the interpretation services we provide, please click on the appropriate buttons below or, if you prefer, click on simultaneous interpretation to go to the section of our Buyer's Guide that discusses the different types of simultaneous interpretation services providers and how to determine which is right for you.